[threecol_two]
Activation: F8 within Score.
This macro serves to delete certain temporary files that are created when launching various Score modules through the Macro Express module "Start ScorBox module . . ." Pressing the F8 key within Score exits the program; F8 is also defined as the hotkey to activate this macro. To inspect the nomenclature of the temporary files that are deleted by this macro, look within the macro itself.
Please note that some users may wish to close a ScorBox session by clicking the close button on the window, or by closing the entire program group from within the task bar. Exiting ScorBox that way would fail to launch this macro, thereby leaving the aforementioned temporary files to remain. To address this concern, another macro, entitled "kill support files on exit SCORE window close" undertakes the same action; it is activated when a ScorBox window disappears.
In all likelihood, that macro would suffice; however, no harm is done by retaining the macro on this page for added redundancy.
Within Macro Express, position this macro into General issues: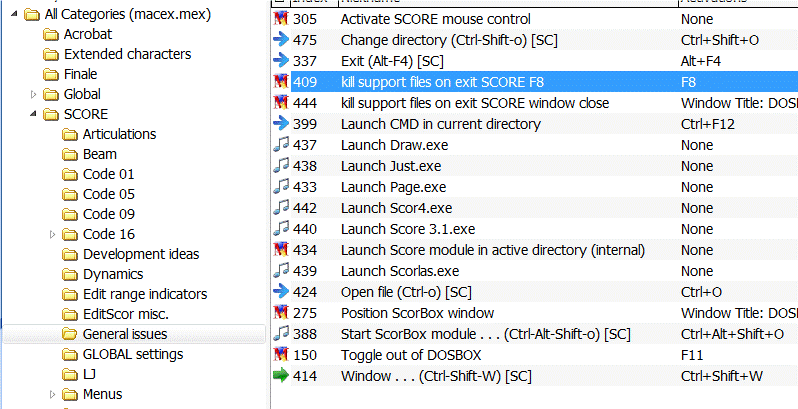 Posted by Jürgen Selk
initial posting    14 March 2011
[/threecol_two]
[threecol_one_last]
Download file:
Macro Express module:
kill support files on exit SCORE F8
To avoid double-postings of macros on this site, this macro and the support file are included on the REQUIRED MACROS page.
[/threecol_one_last]