[threecol_two]
Activation: the closing of a DosBox window, or of several (or all) DosBox windows at once.
This macro serves to delete certain temporary files that are created when launching various Score modules through the Macro Express module "Start ScorBox module . . ." The standard manner for exiting Score is to press the F8 key (or by typing "EXIT" from within Score). When exiting a ScorBox module by pressing the F8 key, the macro "kill support files on exit SCORE F8" is activated, which undertakes the same activity as this macro. However, some users may wish to close a ScorBox session by clicking the close button on the window, typing "EXIT" within Score, or by closing the entire program group from within the task bar. When a ScorBox window disappears in that way, this macro is activated instead, yielding the same effect.
Within Macro Express, position this macro into General issues: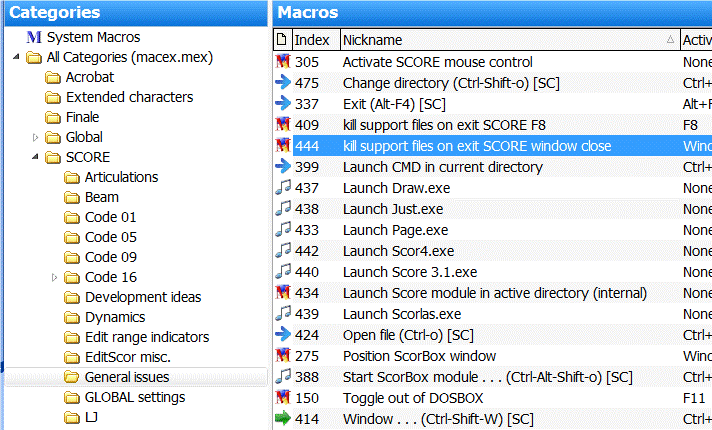 Posted by Jürgen Selk
initial posting    14 March 2011
[/threecol_two]
[threecol_one_last]
Download file:
Macro Express module:
kill support files on exit SCORE window close
To avoid double-postings of macros on this site, this macro and the support file are included on the REQUIRED MACROS page.
[/threecol_one_last]